Proraso®
Founded in 1908 in Fiesole, Italy and still family owned, Proraso® creates products that stand the test of time, defying passing trends and fads to become classics. From their beginning, the principle belief of Proraso® has always been, "to create professional, quality products that deliver a pleasurable and impeccable shave…" The Groom Room™ is honored to use and offer Proraso's shaving products.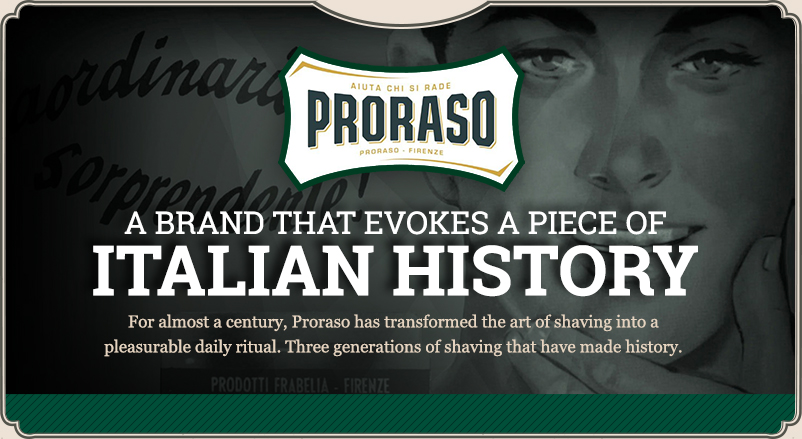 Green:
Refreshing & toning, suitable for all skin types, leaving you feeling fresh and toned. A classic fragrance with menthol and eucalyptus for a cooling sensation.
White:
Suitable for sensitive skin that tends to irritate easily. A fresh fragrance with notes of lime and apple.
Red:
Nourishing and moisturizing, with a pleasing scent of sandalwood. Helps to soften thick and coarse beards.
The Proraso® Product Line:
Pre-Shave Cream – Softens the stubble, tones and protects the skin while preparing it for a perfect shave
Shave Cream – A rich, concentrated shaving cream developed to buffer the skin and prepare the stubble
Shave Soap – Builds into a rich, protective and slick lather
After Shave Balm – Moisturizes and nourishes freshly shaved skin
After Shave Lotion (Splash) – Tones and refreshes the skin, helping to heal razor nicks
Shave Brush – Proraso's professional shaving brush is made with natural boar bristles, designed to create a rich
and protective lather and set the beard up for proper shaving
We also offer an impressive selection of Wet Shaving tools and accessories such as safety razors, shavette-style straight razors, adjustable safety razors and badger hair shave brushes by Parker®. We also stock double-edge razor blades by Feather®, Shark®, Astra® and Gillette® just to name a few.